Let's face it – most of us like to think our handyman skills are more than what they really are. The truth: Too many mistakes often take place before we call in the professionals. While I've had my fair share of household jobs turn up, the intuition to resolve them has not. I have seen/heard of the horror that can come preemptive to phoning in help. Today, we're looking at 5 common mistakes people often make before turning to their trusted and certified plumber. (Number 5 is a doozy!)
Not Turning Off Water at Main Shut Off.
To avoid risking thousands of dollars in damage and a massive headache, take the extra few minutes to shut off the main water supply valve. If you try to quickly attach a new valve or faucet without shutting off the water, chances are you'll have full water pressure flooding the room and dripping to lower floors. Water is easily the most destructive element of nature, as it takes no prisoners in finding the path of least resistance. Don't be that guy.
Over-Tightening Connections.
Too much pressure on a galvanized or black pipe, coupling, tee or elbow can cause the fittings to crack. The risk here lies in that the crack may not happen right away. Over time, the excessive force could cause a crack to happen weeks later – SURPRISE! – flooding. Over-tightening plastic fitting on toilet and faucet supply tubes is very common. When the hex bolts are tightened too much, they can crack and leak. Over-tightening closet bolts at the floor (or where the bowl meets the tank) can cause damage to the porcelain and cause premature ware on the toilet. Bottom line, patience is key here, friends!
Knowing which drain fittings to use in each application is critical to avoiding code violations and unpleasant smells. Different situations call for a tee, wye, or a long or short sweep elbow. Knowing when to use each type of fitting before beginning a job or buying parts is the second-best option; the first being calling the trusted professionals at Alpine. Duh!
Combining Copper and Galvanized Pipes.
When copper piping is joined to galvanized piping, the reaction can cause corrosion. This can lead to severe rusting and clog issues. In most cases a plumber will not replace the copper pipes with steel galvanized pipe (It takes too long and requires specialized pipe threading tools), but rather adapt to copper. This results in a temporary fix, but long term it accelerates the corrosion of the existing pipe work. To avoid these issues, rubber stops called dielectric unions can be purchased to join the two sections of pipe.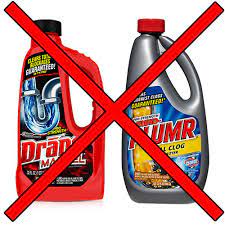 The Pièce de Résistance: Drano.
Drano is just a temporary band-aid fix, not a long-term solution. Drano can burn skin, irritate eyes, and hurt lungs. Often plumbers will check with homeowners to see if Drano has been used within a 24-hour period, as this could make working conditions unsafe. These chemicals can severely damage plumbing systems. Toilet bowls can crack. PVC pipes can soften and break. Old, corroded pipes can be easily damaged. It can quickly eat away at adhesives. Drano is unpredictable if combined with other products or equipment, PERIOD. You never know what kind of chemical reaction you might get when using this within a plumbing system!
We know it's not always an easy feat to ask for help. What's even more difficult? Backtracking damage that could have been avoided with a simple phone call. With another season fast approaching, our schedule at Alpine is filling up fast! You may want to give us a call sooner than later to lock in your appointment. Whether it be those small, odd jobs that may seem like an easy fix or a full-blown overhaul of work to be done – we are on standby to help alleviate that stress! Call us today to find out how soon we can have you back up and running with no hiccups or surprises to come home to.