TRUSTED FOR GENERATIONS
Rooted in the Rockies, Alpine Plumbing Heating and Cooling is the most trusted in the Billings, Montana area. Our family owned and operated business has been proudly serving the community for over 30 years. With four generations of plumbers homegrown in Montana, you can trust that our expertise is unmatched by the competition. We pride ourselves in reliable and trustworthy service for any and all HVAC and plumbing needs. Give one of our specialists a call today for quality customer service with years of experience to back it up!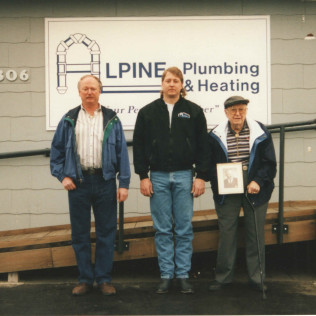 Our Technicians
We're here to serve you
Robert Tehle
Still trying to decide what he wants to be when he grows up – Robert Tehle is our proud owner, fearless leader, Master Plumber and HVAC specialist. After 40 years right here in Billings, MT, he remains passionate about building a good, honest name in our community.
Kenneth Edward Clark III
What is to be said about Ken Clark, he is our drummer plumber, the jokester, the kind heart with a passion for people. The baby faced, tattooed, drummer has over 29 years of experience plumbing from residential to commercial.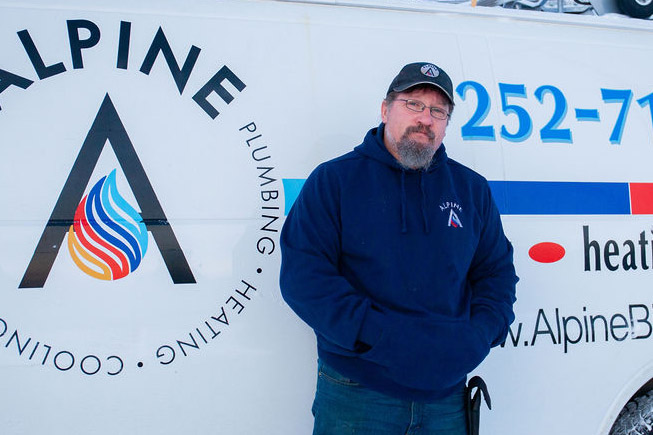 Ed Murray
Ed Murray is quite possibly the most soft spoken, kind hearted soul that you could find in this profession. Ed started as an apprentice with Alpine over 20 years ago and quickly became an asset to Alpine with his vast knowledge in, well everything. With a background in construction and roofing there was little that Ed did not know. As he finished his apprenticeship and became a journeyman plumber he quickly became the go to guru when any plumber has a question. As the shop foreman, renovation expert, and camp counselor he carries the weight of our diverse team on his shoulders and does so with the patience of a saint!
James Best
An 80's-born rambler originally from Tucson, AZ, James is one of our two HVAC specialists. He grew up in Absarokee, MT and has been in Billings for almost 2 years. It was during a time when James was experiencing a slow period in Commercial Construction that landed him an HVAC apprenticeship.
Zach Murray
On his way to completing his apprenticeship, Zach has been with us here at Alpine since July of 2015. He began as a shop hand shortly after he graduated high school and has been climbing his way up the ranks ever since. Son of our technician Ed, he has quite the shoes to fill, but is more than willing to put himself to test.
OUR APPRENTICE
We're here to serve you
Mike Tutaj
Our Office staff
You've probably spoken to us on the phone
Cain Flores
Our newest addition to the office, Cain joins us from a background of over 15+ years of customer service experience. Beginning in the food/bar industry then moving to financials, to traditional and online business ownership, coupled with 25+ years of music performance – the passion to share positivity and ignite smiles remains strong with this one! Cain found his way back to Montana in 2009 and has built up a healthy affection for our Billings community. Joining the Alpine family in October of 2021, he is looking forward to lending a hand to all things behind the scenes. Cain is the voice behind our most recent blog posts, which you can check out right here on the Alpine website under the "Blog" tab!
Becky S. Clark
Big Boss Lady. Chaos Coordinator. Queen Bee. El Capitan – there is no title that quite says it all. Becky has been with Alpine for 9 years and counting! A mother of 2 amazing young women and married to hunkiest of Alpine technicians (see Technician profiles: Kenny), Becky is the heart and soul of all our operations. Outside of our office, you can find her hard at work slaying her academic goals, owning the stages of local music venues as an established/noted songwriter and musician, and uplifting others through the powers of wellness. The glue that holds it all together – you can count on Becky for the highest standard of quality service and assistance!
274
Kitchen/Bathroom remodelling